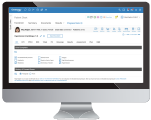 The future of Prime Suite is coming!
Learn about the completely revamped look and feel and improved functionalities coming soon to Prime Suite.
See what's in store
Thrive in a changing healthcare landscape
Integrated solutions designed to delight
In a rapidly changing healthcare industry, Prime Suite moves your practice toward success.
More than 4,000 customizable clinical templates.
Clinical alerts that enable care interventions for patients who are high risk.
Simple interface for batch eligibility checks to ensure your patients are covered.
Rapid access to patient data and past medical histories via EHR software.
Advanced clearinghouse integration and top-rated revenue services.
4,000
Customizable templates, making it easier for your specialty to provide the care your patients need.
Regulatory compliance to drive performance
With Greenway Analytics, you can turn data into actionable information, and align your practice with value-based care models that reward the value of healthcare over the volume of patients. 
Compare and trend patient and provider performance. 
Evaluate patient populations for targeted care.
Improve regulatory compliance and program participation. 
Gain the freedom of mobility
Prime Mobile allows you to work from phones, tablets, and other mobile devices. Accelerate care, handle after-hours calls, and manage medications on the go. 
A clinically connected solution
Prime Suite exchanges clinical and administrative data through Greenway Exchange, our hub-and-spoke interface platform that makes connecting with other healthcare organizations streamlined and affordable.
We have solutions for the challenges you face